Writing has been a love of mine since childhood…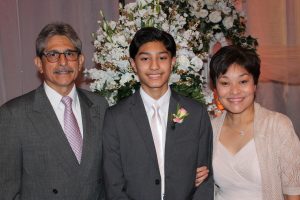 ​​In fourth grade I wrote several short stories about misunderstood giants (way before Roald Dahl wrote The BFG). My classmates enjoyed my stories, but my teacher, who viewed my creativity as disruptive, told whomever was writing the unauthorized work to stop immediately. (My classmates, by the way, protected my identity.)
I stopped "disrupting" the class, but I didn't stop writing. I kept diaries and wrote long letters to pen pals. When "The Waltons" came out in 1971, I, at age 10, decided to be a writer. But I found out in high school and college that, as much as I loved to write, I suffered from terrible bouts of writer's block. Deadlines paralyzed me. So I put my pen down.
In the meantime, Yahweh brought me to places my ten-year-old self could never have imagined. Through my older sister Ruth's prompting, I went to medical school and became a family medicine physician. Then in residency, I met my future husband, Humberto (better known as Zee). Many years later, Zee and I were blessed with our son, Zechariah.
In 2015, with much push-encouragement from Zee, I finished my writing course through The Institute of Children's Literature with the completion of a children's book (still very much a work in progress). And, again with Zee's support, I experienced my very first writers' conference that year when I attended the Blue Ridge Mountains Christian Writers Conference.
The experience was exhilarating. My childhood dream reawakened with such intensity that I felt, for the first time, that writing was a desire Yahweh planted in my heart. And He proved it in a tremendous way. The very first article I ever submitted was accepted by Focus on the Family. And I became a published writer!
"Delight thyself also in Yahweh; and He shall give thee the desires of thine heart. Commit thy way unto Yahweh; trust also in Him; and He shall bring it to pass." Psalm 37:4-5(KJV)
This is my life verse. And my life is proof that Yahweh keeps His promises.